Roxburgh
district, Borders region, southern Scotland. Created by the reorganization of 1975, it includes most of the former county of Roxburgh (q.v.) and a small part of the former county of Berwick. Hawick is the seat of the district authority. The district, with an area of 595 square miles (1,540 square km), contains the entire basin of the Teviot River, which flows northeast in its dale (valley) to its confluence with the Tweed at Kelso. Rolling grass moorlands enclose the farmland in the deep valleys. Most of the district's land is under grass. Upland sheep farming is the chief occupation west of Hawick. The lowland crop-livestock farms combine sheep and cattle breeding. The economies of Roxburgh's towns centre on their markets, textile manufactures, and tourist trade. Hawick is especially noted for hosiery and knitwear. Pop. (1987 est.) 35,133.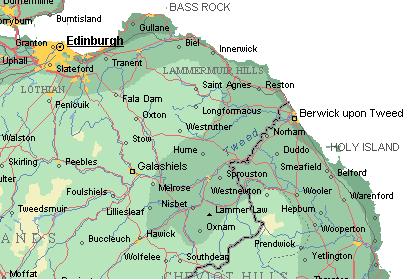 The Borders of Scotland - Roxburgh
Roxburgh, also called ROXBURGHSHIRE, former county, southern Scotland; since the reorganization of 1975 it is mostly in Roxburgh district, of Borders region. Numerous archaeological remains in the area include hill forts in the dales and later Roman camps, forts, and signal stations, as well as Dere Street, the Roman road running north from England. After the Roman withdrawal the area was occupied by the Britons of Strathclyde, and it was later annexed to Northumbria for four centuries until it was ceded to Scotland in 1018. Roxburgh was constituted a shire by David I, and its ancient town of Roxburgh formed one of the Court of Four Burghs. The town was abandoned when the castle was destroyed and James II of Scotland killed in 1460; it was superseded by Kelso. Other towns in the locality were repeatedly burned during border warfare between the Scots and English, and the abbeys of Jedburgh, Kelso, and Melrose were ruined in 1544-45. Abbotsford, near Melrose, was the last home of the 19th-century novelist Sir Walter Scott, and the surrounding area is known as "the Scott country."
---
[Home] [History] [Contact] [Guestbook] [Gallery] [Links] [R.F.Vickers] [Family Tree]