Robert Flockhart Vickers
A Tale of Double Murder in Old Edinburgh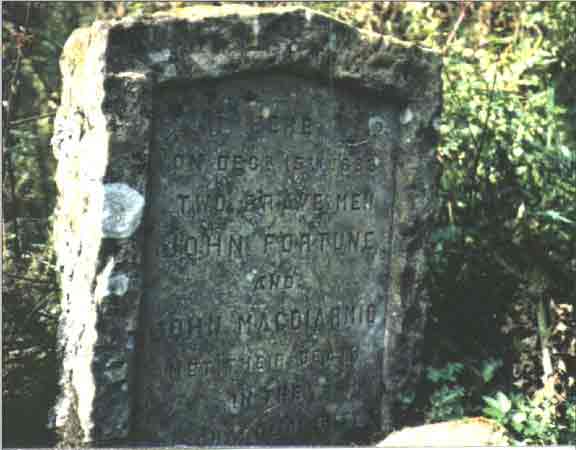 The text on the above stone reads:
HERE
ON DEC. 16TH. 1883
TWO BRAVE MEN
JOHN FORTUNE
AND
JOHN MACDIARMID
MET THEIR DEATH
IN THE
DISCHARGE OF DUTY
---
There is an interesting tale behind this stone, one that featured in the local and national papers in 1883 and 1884. On the 16th of December, 1883, Robert Flockhart Vickers and William Innes, were poaching on the outskirts of Edinburgh. Two gamekeepers, John Fortune, and John MacDiarmid, met their deaths at the hands of these poachers, who were, on the 31st of March, 1884, executed by hanging in Calton Prison, Edinburgh, for these crimes.
---
Scanned images of trial minutes
Text of death sentence given to Robert Flockhart Vickers
Account from the Glasgow Herald of the execution.
Excerpt from book, "Scottish Crime and Punishment -100 years of Murder & Execution"
A poem about the "Gorbridge Murders"
The poaching exploits of the generation before
---
My thanks to: Colin Wilson, David Gee, and Bob Scott for the text and pictures on these pages..
---
[Home] [History] [Contact] [Guestbook] [Gallery] [Links] [R.F.Vickers] [Family Tree]